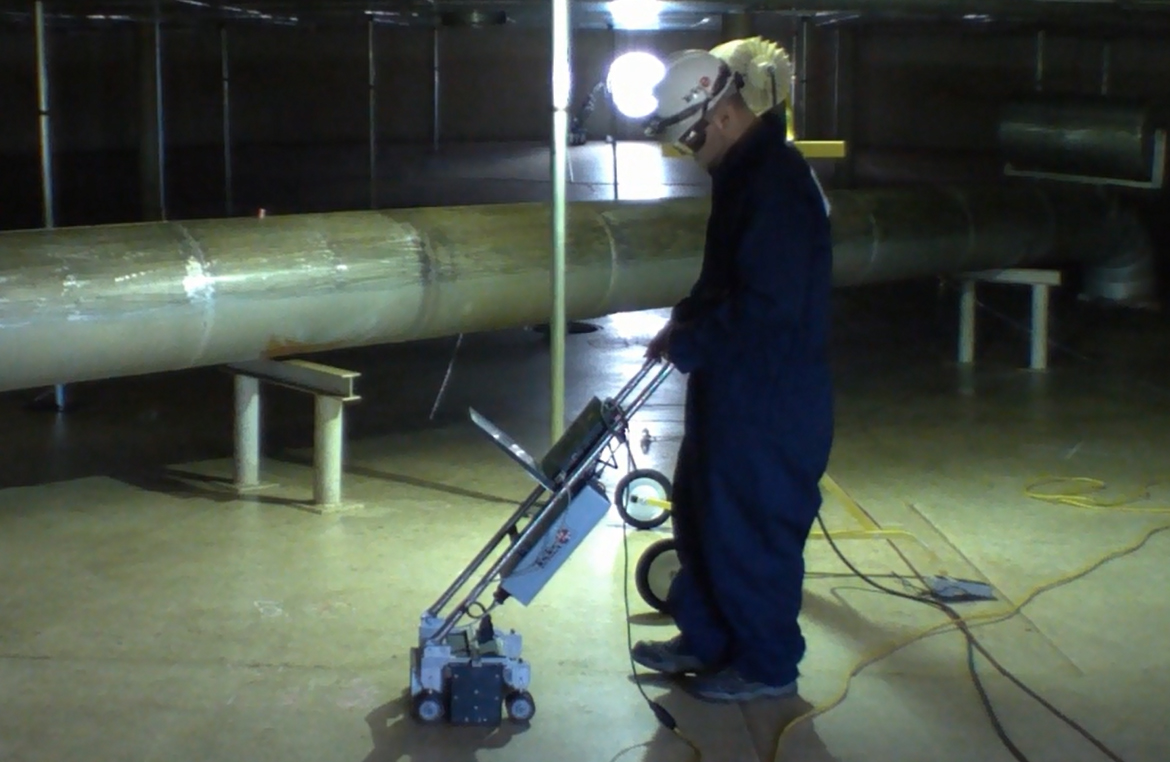 Above Ground Storage Tank Inspections

TesTex provides multiple tank floor scanning services in addition to our

API 653

inspections. Complete tank floor inspections can be done with our Falcon Mark II, or our Falcon S Series. Tank welds can be inspected with our Triton BFET system.
LFET does not use permanent magnets as is common in Magnetic Flux Leakage (MFL) equipment; so, it is lightweight and portable. The Falcon Mark II can scan through coatings and tightly-bonded, uniform scale. The Falcon Mark II is used to scan the floor plates for topside and underside corrosion. Areas identified with the scanner are then marked and verified with ultrasonics.
Tank Floor Inspections with the Falcon S Series

The Falcon S Series uses similar technology to our Mag Wave system, in that it brings Eddy Current accuracy to ferrous plates. The highly sensitive nature of eddy current allows the scanner to detect and size top side/bottom side pitting, and localized wall loss. Additionally, The Falcon S Series can detect cracks. One other exciting feature is the ability of the Falcon S Series to scan through non-metallic coatings of up to 0.5 in. (12mm)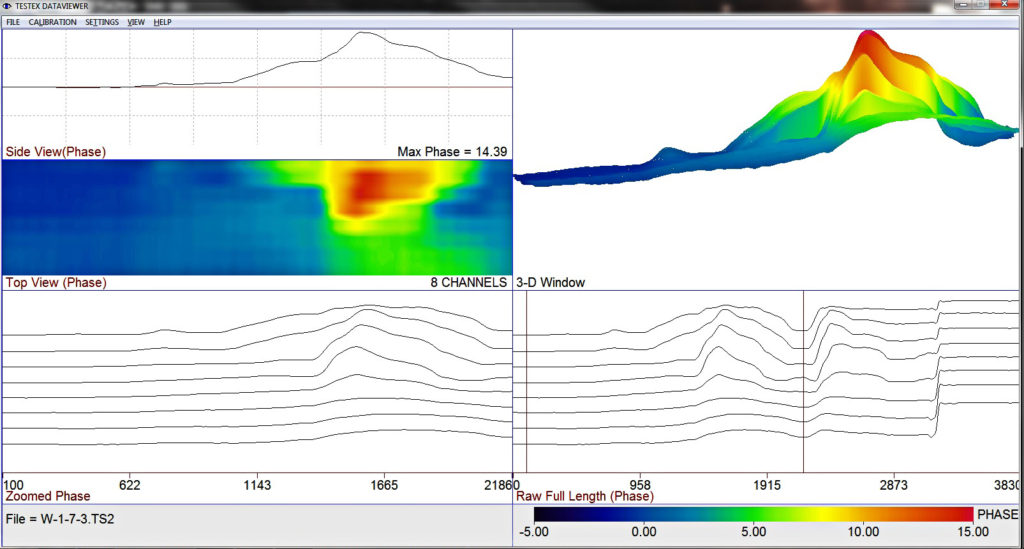 Waveform shows a corrosion cell on a above ground storage tank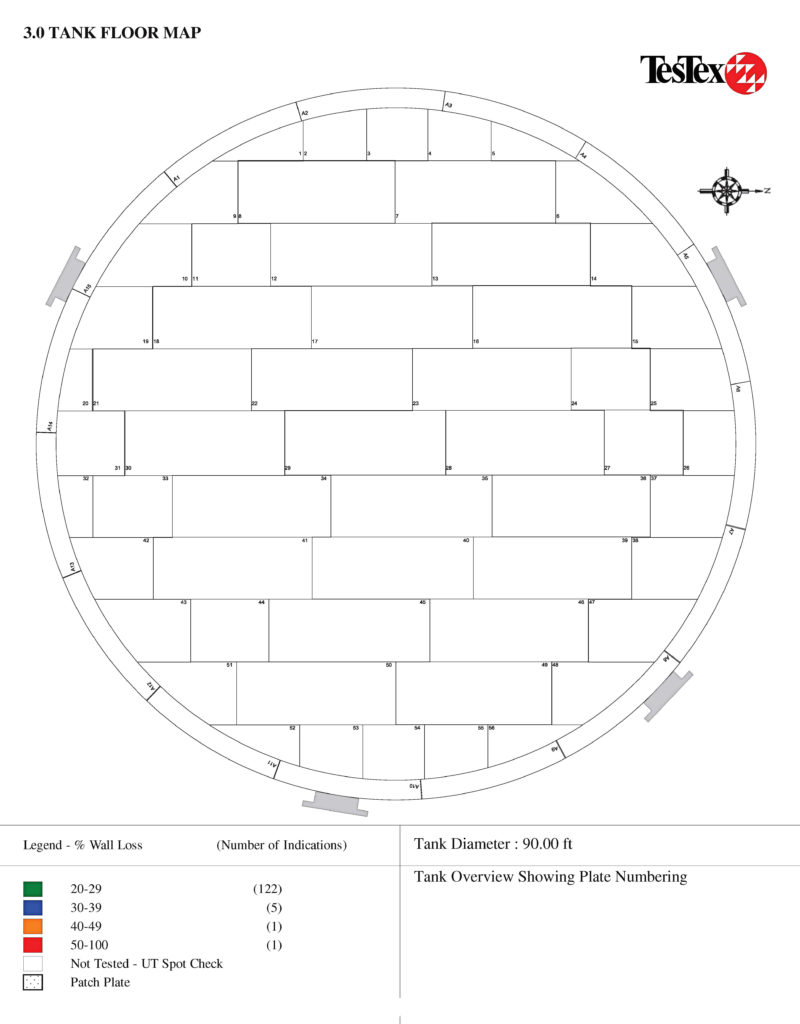 Tank floor map generated with mapping software
Tank Inspection Supporting Technologies

TesTex also offers a smaller Falcon JR and Falcon S hand scanner, based off of their respected technologies, to inspect inaccessible areas on the floor around items like support legs, sumps and buckled annular plates or under heating coils.
The Triton BFET is used to scan welds and detect surface and sub-surface cracks. TesTex also offers magnetic particle inspections and vacuum box testing as alternatives.
TesTex Viper Crawler System is a perfect solution for UT scans on ferrous above ground storage tanks and can be a more cost effective solution than scaffolding.
The results are presented in a detailed inspection report, and our inspections can include:

Floor scans using Low Frequency Electromagnetic Technique (LFET) and/or Saturation Low Frequency Eddy Current scanners and hand scanners to detect topside and bottom side corrosion
Scanning through coatings and tightly bonded scale
Shell visual and or ultrasonic thickness inspections via remote crawler
Foundation settlement assessments to detect various forms of tank foundation movement
Weld inspection via magnetic particle, electromagnetic techniques, liquid penetrant, UT weld inspection and vacuum testing techniques
Visual inspection of the tank bund wall and bund area
RBI (Risk Based Inspection) & site audits for determining inspection intervals & inspection work scopes
Click here to to see our Tank Inspection Services video.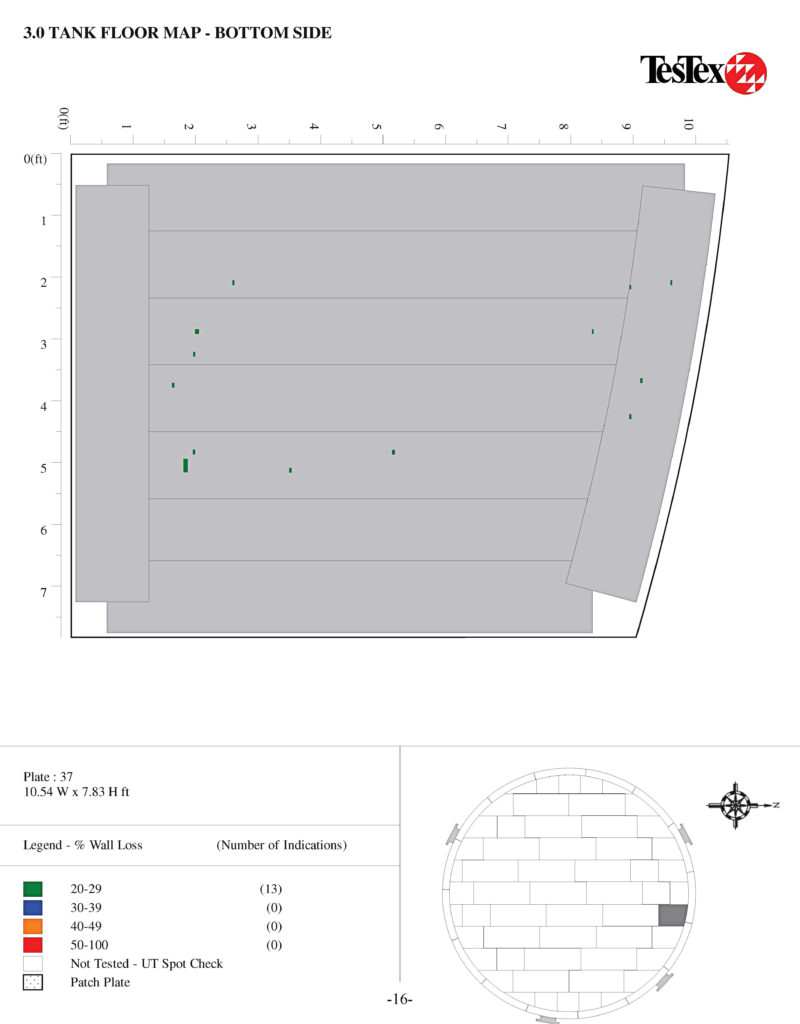 Tank floor plate showing areas of pitting
Clicking "Quote" will add the item to a temporary cart and prompt you to register/login. To view the items in this cart or send us an email requesting a quote, please complete the registration process or login.
| Description | Quantity | Add to |
| --- | --- | --- |
| Above Ground Storage Tank Inspection Services | | |
| API 653 Inspection Services | | |
| Falcon Mark II | | |
| Falcon S Series System | | |
| Triton BFET System | | |