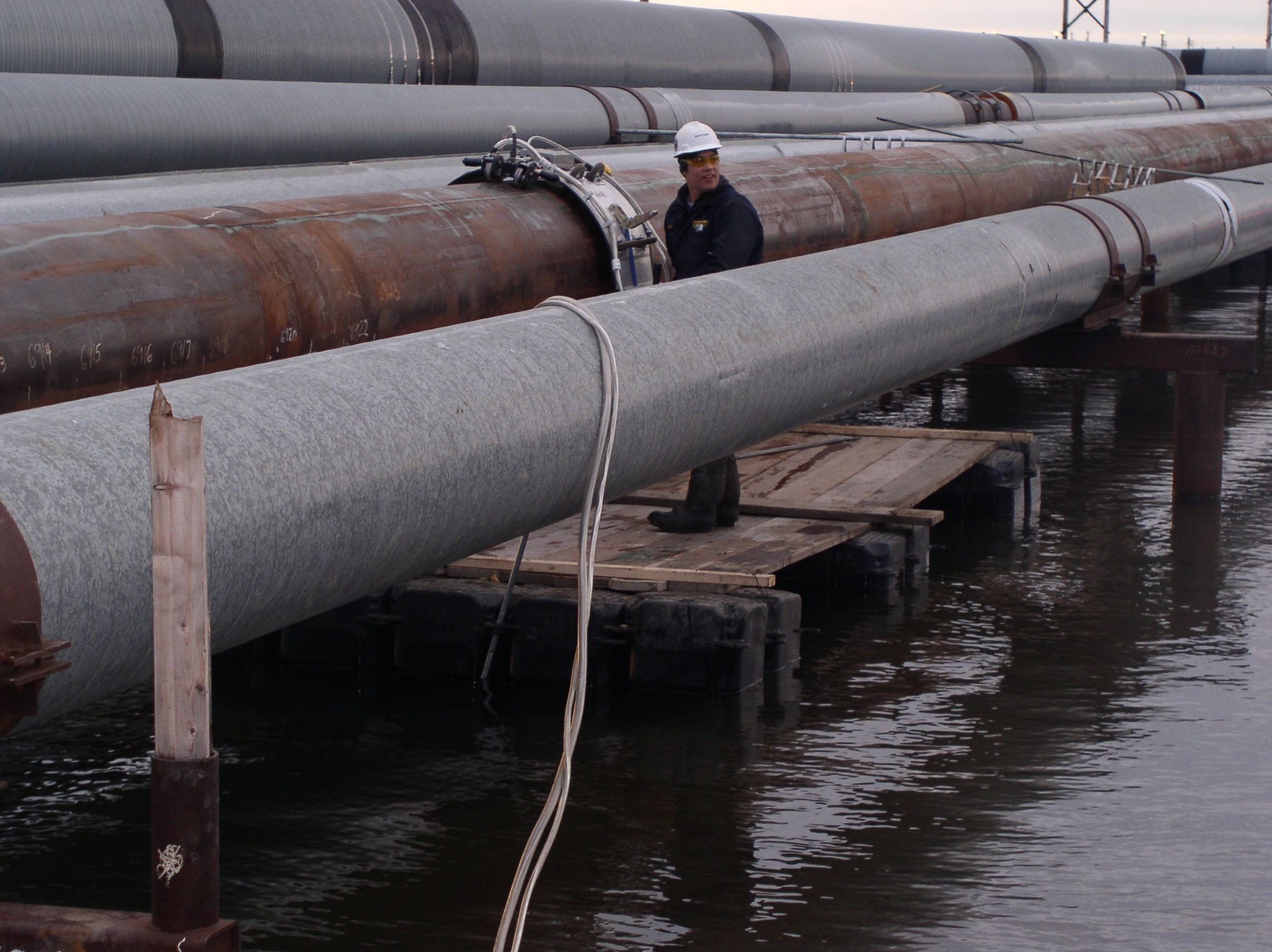 Pipe and Pipeline Inspection
TesTex is your trusted partner for comprehensive pipeline scanning services, specializing in above-ground, uninsulated piping. Our cutting-edge scanning solutions effortlessly penetrate painted or coated piping, ensuring accurate evaluations. To accomplish this, we harness the power of the state-of-the-art Triton II LFET System, built upon TesTex's proprietary Low Frequency Electromagnetic Technique (LFET).

With LFET technology at our disposal, TesTex achieves rapid scanning of piping areas, exceeding 90% coverage with exceptional efficiency. The versatile Triton II serves as both a quantitative tool and a rapid screening tool, offering unparalleled flexibility. In screening mode, we employ A-Scan Ultrasonics to validate flaw indications with precision. Our advanced technology seamlessly caters to both magnetic and non-magnetic piping, including the testing of cast iron and other cast materials.

Experience the reliability and accuracy of TesTex's pipeline scanning services. Our commitment to excellence, coupled with the application of cutting-edge LFET technology through the Triton II system, guarantees thorough evaluations that surpass industry standards.
TesTex introduces the Line CAT, and the Line CAT Plus an advanced automated scanning rig revolutionizing inspections for longer pipe runs. Built upon the principles of LFET, this cutting-edge system showcases TesTex's commitment to precision and efficiency. Specifically designed to swiftly and accurately scan piping with a diameter of 6″ or greater, the Line CAT line of products offers unparalleled capabilities.

Operating from the outer diameter (OD) of the pipe, both Line CAT products conducts inspections with remarkable speed and accuracy. Its state-of-the-art design enables seamless scanning of extensive pipelines, ensuring comprehensive evaluations. Equipped with advanced technology and guided by LFET principles, the Line CAT guarantees reliable and thorough inspections for a wide range of applications.

Choose the Line CAT or the Line CAT Plus from TesTex for unmatched performance, efficiency, and accuracy in inspecting longer pipe runs. Our automated scanning rig sets the new standard in pipeline inspection, providing the confidence and assurance you need.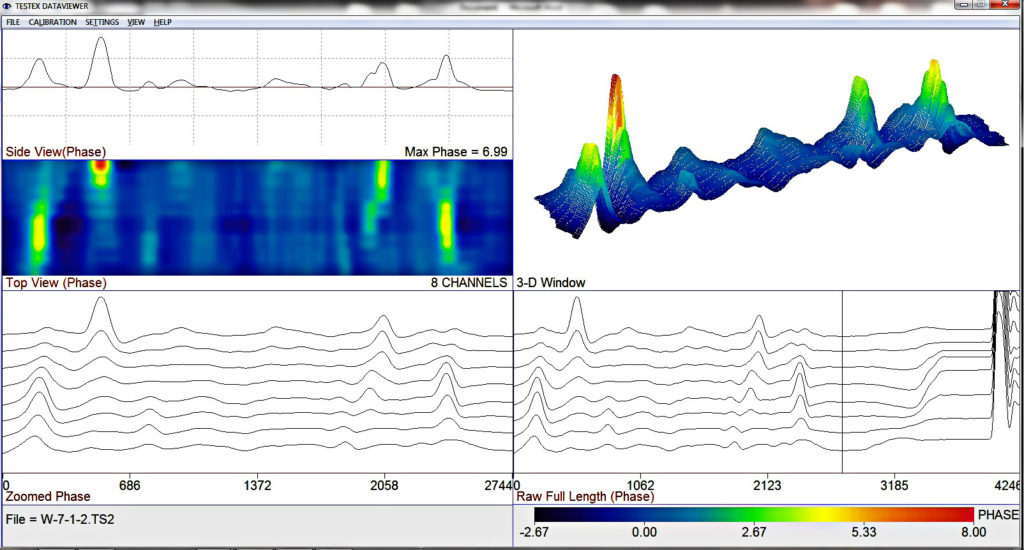 Waveform shows pitting found by LFET hand scanning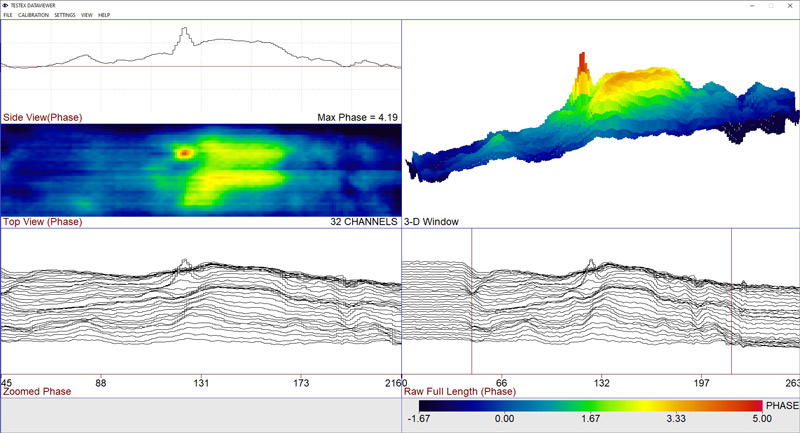 Waveform shows pitting found by the TesTex
Line CAT
The Line CAT can be propelled remote-controlled magnetic wheeled crawler propels the system at a remarkable speed of up to 10 ft/min. With a contoured top shell providing stability, the Line CAT's sensor array consists of 16 scanning pods (each 50mm wide, with more pods available on the Line CAT Plus version) that conform to the pipe's geometry through a flexible coupling system. Designed to navigate bends and welds effortlessly, the Line CAT withstands arctic conditions down to -40°F and is conveniently shippable via overnight carriers. Experience the future of pipeline inspections with Line CAT.
Unleash the power of pipeline scanning in nuclear power plants, where TesTex's advanced technology excels in detecting and quantifying corrosion risks. Our comprehensive scanning services cover critical piping systems, including service water systems and fire protection systems. With our state-of-the-art scanning techniques, we can accurately identify and assess both microbiologically induced corrosion (MIC) attacks and flow accelerated corrosion (FAC). Trust TesTex to safeguard the integrity of your nuclear power plant's piping infrastructure with our unparalleled expertise in corrosion detection and quantification.
Enhance the efficiency and reliability of coal burning power plants with TesTex's rapid scanning solutions for coal mill piping. Our advanced technology enables swift and precise inspections, specifically targeting internal erosion caused by pulverized coal. With our cutting-edge scanning techniques, we swiftly identify and assess the extent of erosion within the piping's interior. Count on TesTex to optimize the performance of your coal mill piping, ensuring uninterrupted operations and mitigating potential risks associated with ID erosion..
TesTex offers comprehensive inspection services for short-run underground piping using our advanced Triton II RFET System. This cutting-edge technology grants seamless access to the pipe's interior diameter (ID), allowing for thorough evaluations. Utilizing our proprietary Remote Field Electromagnetic Technique (RFET), the Triton II system effectively scans for defects, ensuring the integrity and reliability of the piping. Rely on TesTex for precise and efficient inspections, providing you with the vital insights needed to maintain the optimal performance of your underground piping systems.
Click here to to see our pipeline inspection tools video.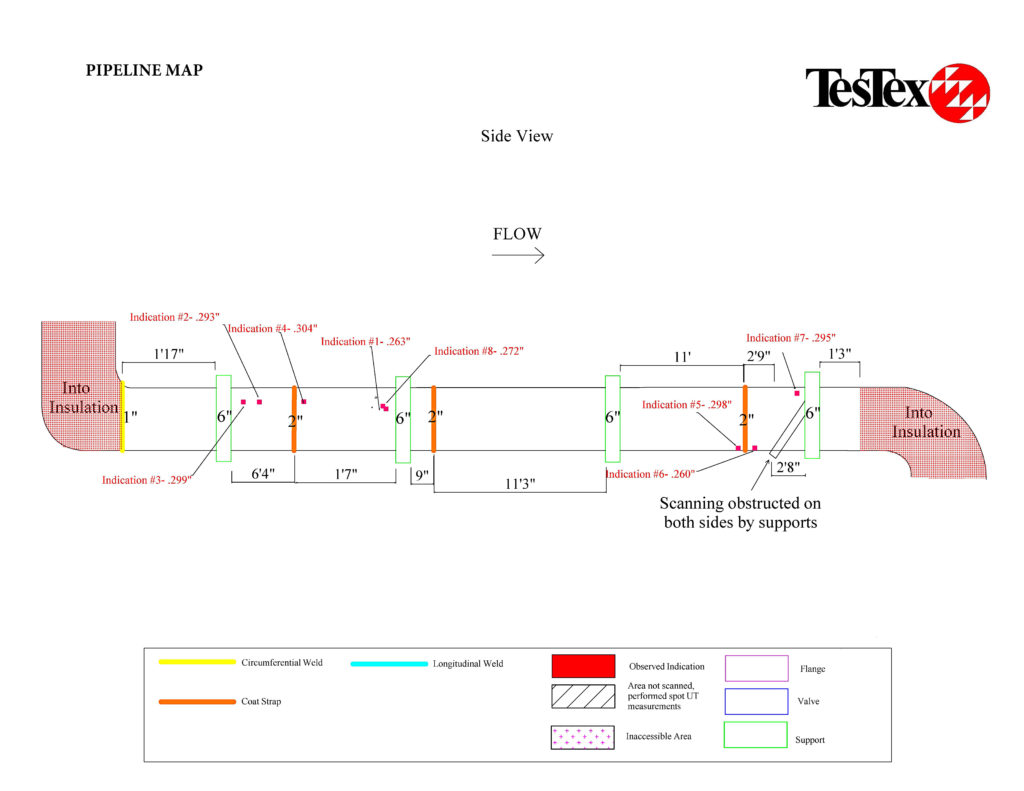 Piping diagram showing areas of corrosion
Clicking "Quote" will add the item to a temporary cart and prompt you to register/login. To view the items in this cart or send us an email requesting a quote, please complete the registration process or login.
| Description | Quantity | Add to |
| --- | --- | --- |
| Pipe and Pipeline Inspection Services | | |
| Line CAT System | | |
| Line CAT Plus System | | |
| Triton II RFET System | | |