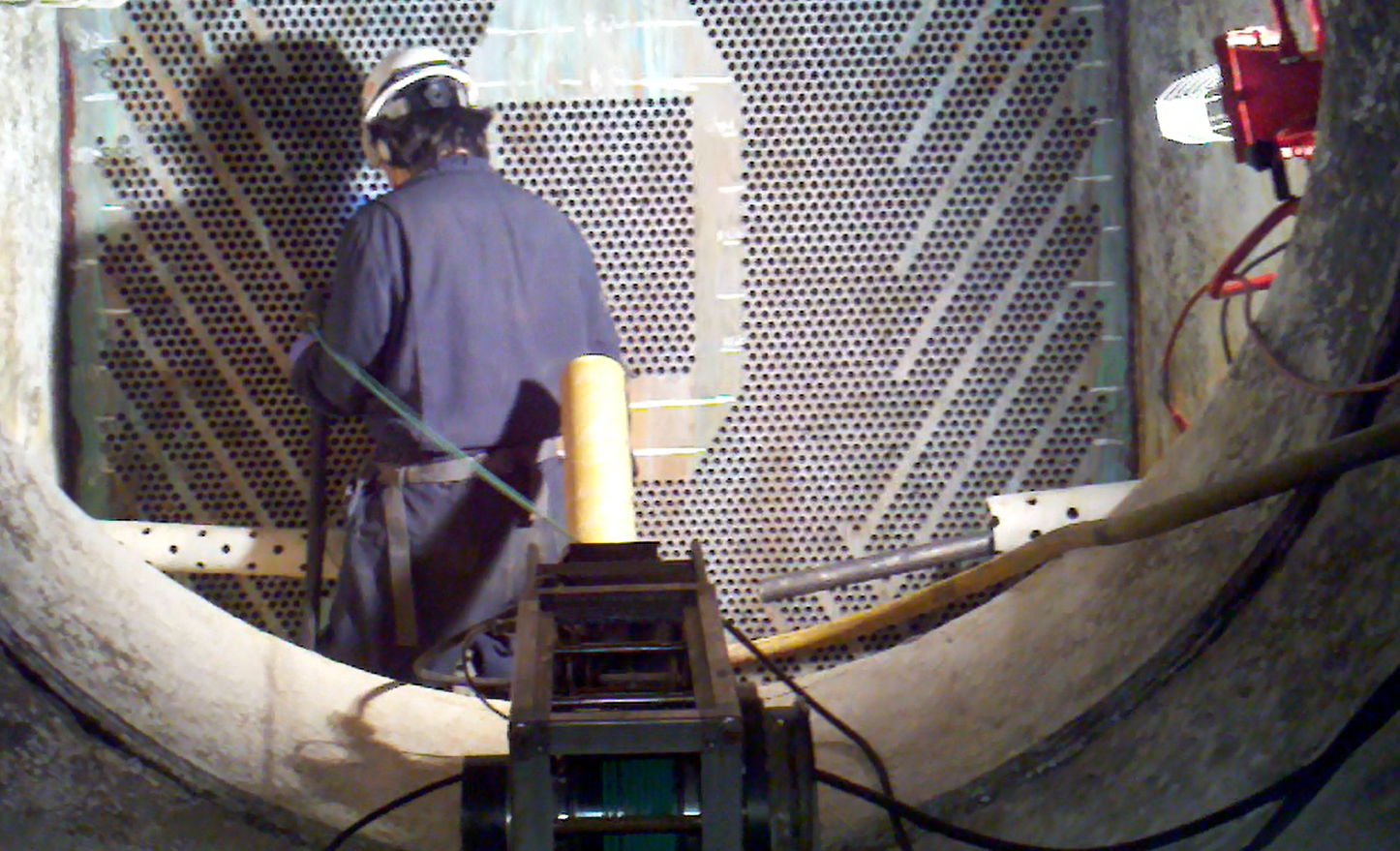 Condenser Tube Inspections
Experience the unrivaled speed and accuracy of TesTex's ultra-high-speed condenser tube inspection services. With our advanced technology, we can scan an impressive eight tubes per minute using a single inspection system, assuming 30-foot long tubes. Our capabilities extend to tubes up to 70 feet in length, encompassing feedwater heater tubes and heat exchanger tubes.

Despite the remarkable speeds achieved, extensive testing has consistently validated the accuracy and reliability of our systems and methods. At the core of our condenser tube inspection method is Eddy Current Technology, which ensures precise and thorough evaluations. Using compressed air, probes are propelled into each tube and then retracted using a cable reel system. Each set of data is meticulously numbered and seamlessly transmitted to a data cell, perfectly aligning with the corresponding location on a digital tube sheet map.

Choose TesTex for ultra-high-speed condenser tube inspections that redefine industry standards. Our cutting-edge technology and meticulous methodologies deliver unmatched speed, accuracy, and efficiency, empowering you to maintain the optimal performance of your systems.
TesTex stands apart from other inspection companies by guaranteeing the presence of at least one Level II ET inspector on-site throughout the inspection process. Our commitment to quality extends to our in-house training programs, specifically tailored for tube inspection, ensuring that our personnel are certified according to ASNT SNT-TC-1A guidelines.

To provide you with immediate results and unmatched accuracy, data analysis is conducted in real-time during on-site inspections. This crucial step allows for prompt retesting of any questionable signals or flaw indications, ensuring precise analysis. As part of our comprehensive service, we generate a PC-generated full color tube sheet map on-site, included in the preliminary field report. Unlike other vendors who offer a preliminary report at an additional cost, we prioritize delivering comprehensive and timely information directly to you. Choosing other vendors may result in the analysis being conducted off-site, without the opportunity to recheck questionable signals.

At TesTex, we prioritize accuracy, efficiency, and transparency throughout the inspection process. With our commitment to on-site Level II ET inspectors, in-house training, real-time data analysis, and comprehensive reporting, we ensure that you receive the highest standard of service and results.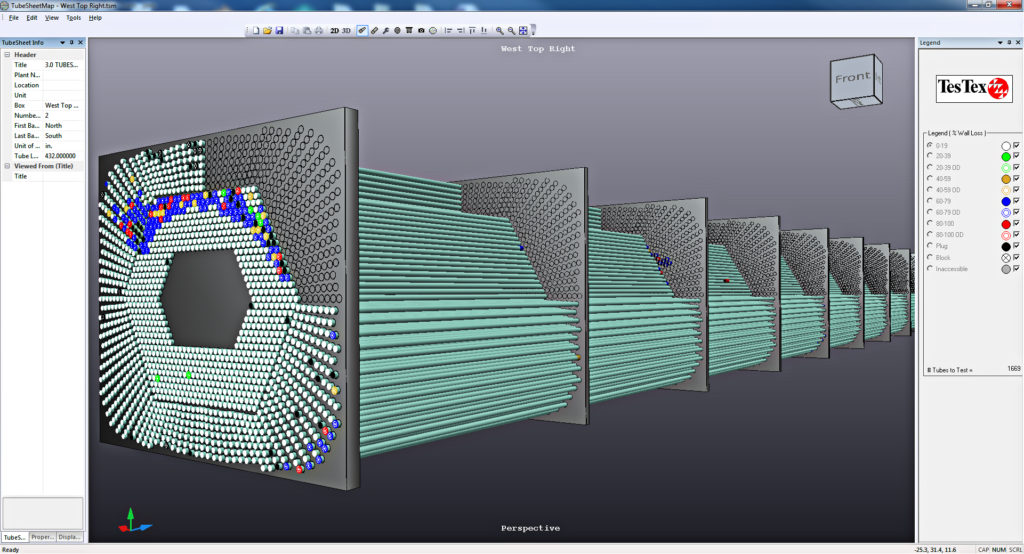 Example of a condenser 3-D tubesheet map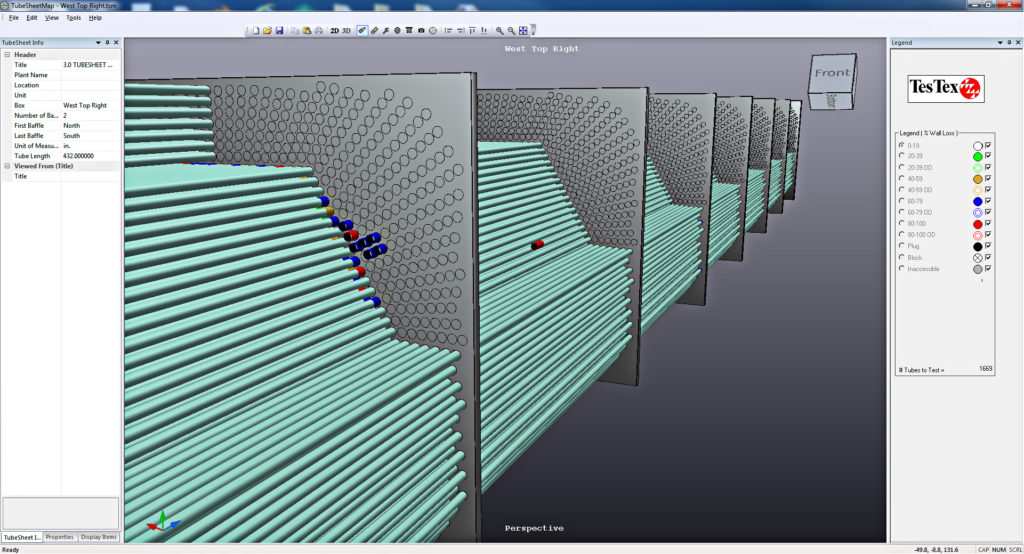 3-D tubesheet map showing defect location
TesTex prioritizes on-site data analysis during inspections, ensuring efficient and timely results. Unlike other inspection companies, some of our clients have shared their dissatisfaction with delayed test results and inspection reports, receiving them only four to six weeks or even months after the inspection was completed. We understand the importance of prompt and reliable data delivery.

Please note that TesTex specializes in tubing inspections, rather than tube cleaning with minimal eddy current testing. However, if you require turn-key cleaning and inspection services, we have a network of dependable tube cleaning companies nationwide that we can sub-contract for your specific needs.
Why perform a full or partial condenser tube inspection?
Our service offers immediate, on-site delivery of a detailed, full-color tubesheet map after tube testing. This enables quick plugging, ensuring a prompt return to service with increased reliability. The map highlights critical areas requiring immediate attention, including ammonia grooving, steam erosion, inlet end erosion, and other forms of corrosion.

With our proprietary TesTex technology, we can perform 100% inspections on condensers with tens of thousands of tubes within a few days. This efficient process is designed for large condensers and heat exchangers but can also be used for smaller tube quantities in emergency situations that demand a swift return to service.

Our ultra-high-speed testing reduces shutdown times and helps prevent damage to other plant equipment caused by leaking condensers, such as corrosion cells and hydrogen damage in the boiler. This valuable solution provides cost savings and enhanced reliability for power generation companies.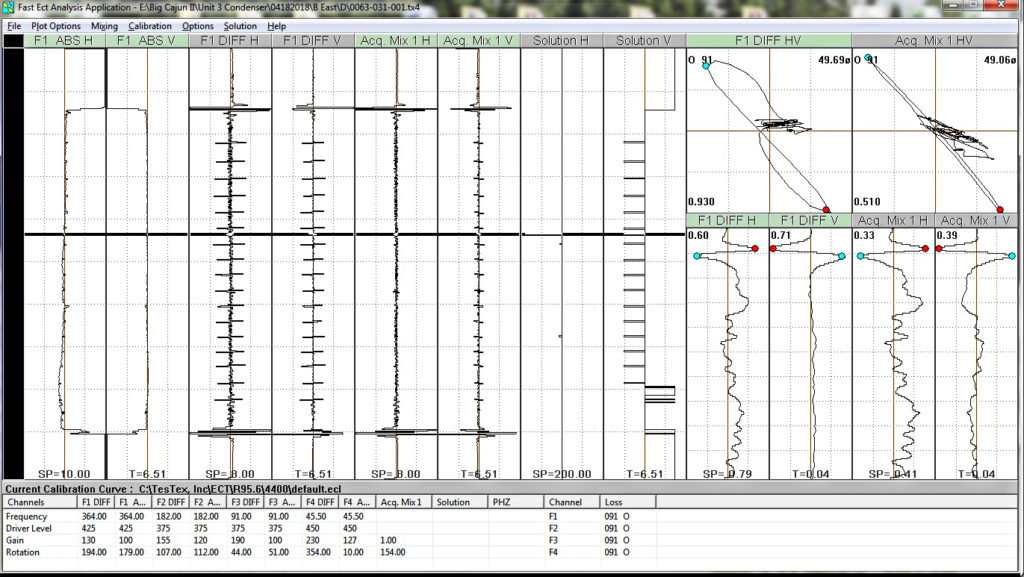 Waveform shows a 90% pit in a condenser tube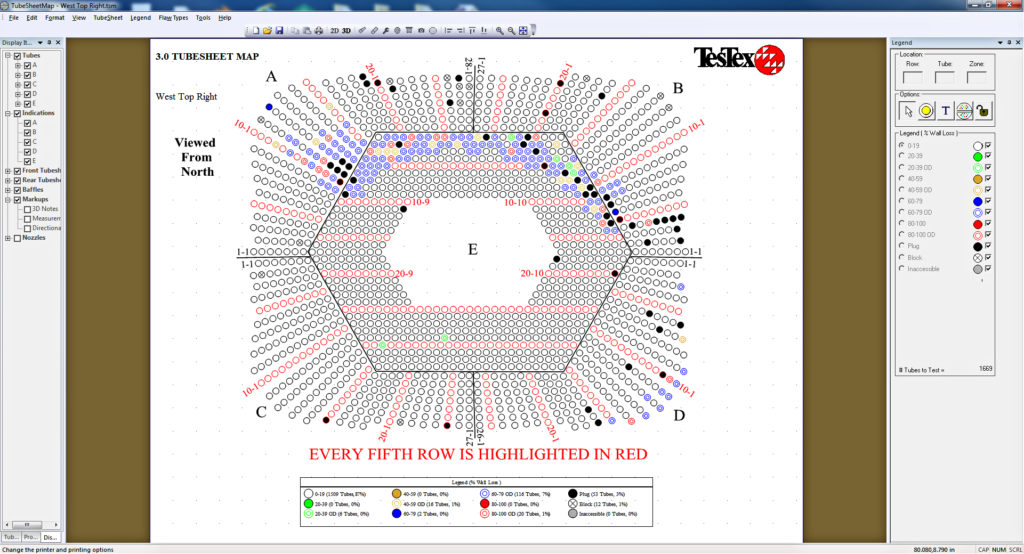 Tubesheet map showing tubes with defects
When percentage inspections are required, TesTex also provides manual Eddy Current testing using our Onyx IV Multifrequency Multichannel ECT System, IRIS ultrasonic inspections and video borescoping services.
TesTex can also provide a list of  tube cleaning, cut-out and plugging subcontractors when requested by a client.
Reasons to use TesTex for condenser inspections:
Find the trouble tubes before they find you. Our system will very quickly detect and quantify flaws in tubing made of brass, copper-nickel, stainless steel, copper, titanium, AL6XN, aluminum, etc.
Find tubes with holes/leaks that don't show up on hydro checks due to clogging and thermal expansion issues
Reduce or eliminate back pressure due to in-leakage and increase megawattage of the overall system
Know exactly what condition the condenser tubes are in so that you can forecast condenser tube remaining life, tube replacement, shield installations, etc
Justify a tube replacement by performing a full or random tube inspection
Eliminate the possibility of condenser tube leaks when electricity demand is high
Reduce/eliminate cost for additional water treatment chemicals, polishers, and make-up water
Reduce damage to other plant equipment (for example, Corrosion Cells and Hydrogen Damage in the Boiler) that can stem from leaking condenser tubes
Increase reliability
Clicking "Quote" will add the item to a temporary cart and prompt you to register/login. To view the items in this cart or send us an email requesting a quote, please complete the registration process or login.
| Description | Quantity | Add to |
| --- | --- | --- |
| Condenser Tube Inspection Services | | |
| Onyx IV ECT Inspection System | | |
| Helix-XT IRIS System | | |
| Tube Sheet Mapping Software | | |