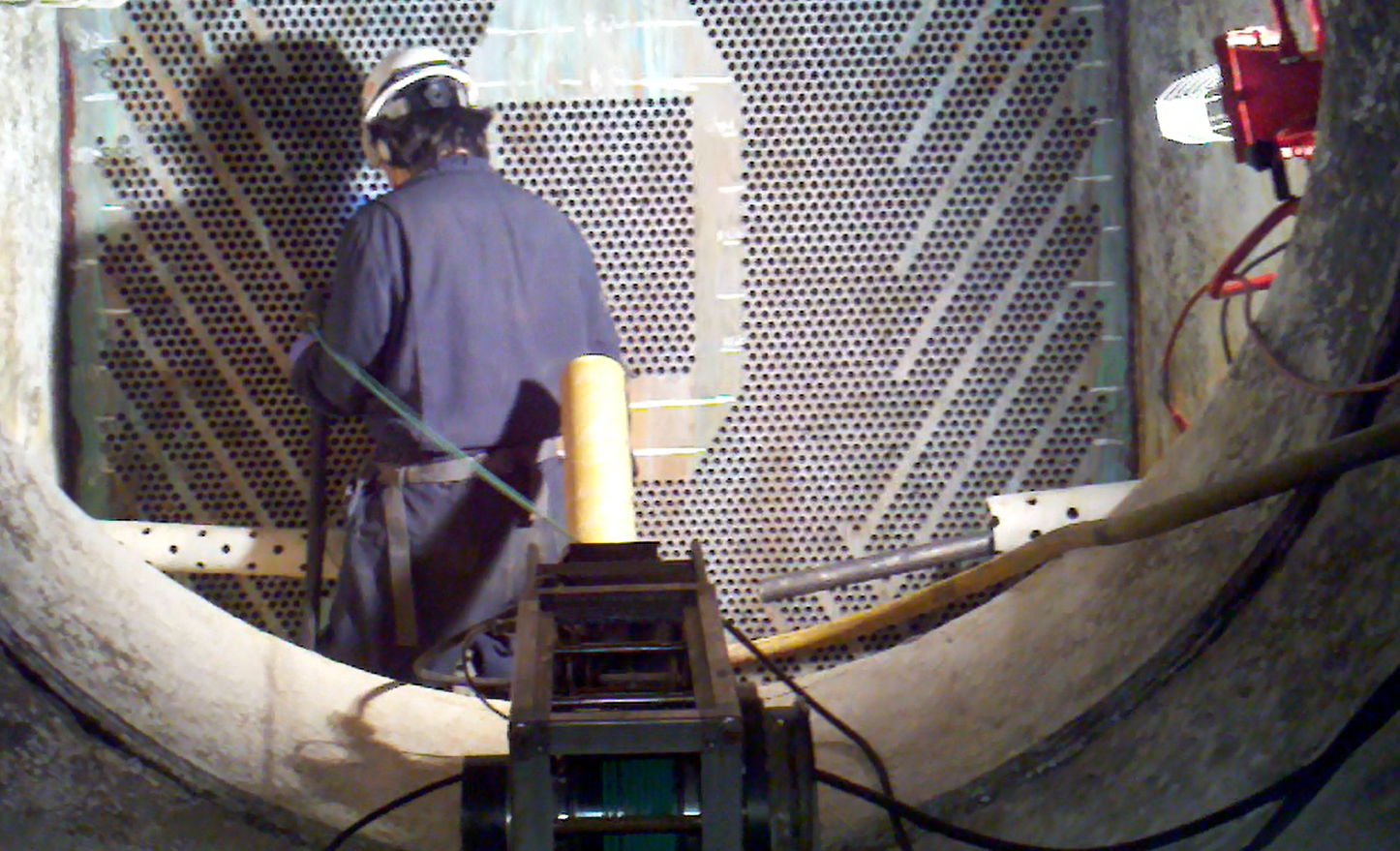 Condenser Tube Inspections
TesTex offers ultra-high-speed condenser tube inspection that can scan eight tubes per minute with one inspection system–assuming 30-foot long tubes.
Tubes up to 70 feet in length, feedwater heater tubes and heat exchanger tubes can also be inspected with our ultra-high-speed methods. Despite the high speeds, numerous tests have confirmed the accuracy of our systems and methods.
Our main condenser tube inspection method is based on Eddy Current Technology. Probes are propelled into each tube using compressed air and then retracted using a cable reel system. Each set of data is discreetly numbered and sent to a data cell to correspond with a location on a digital tube sheet map.
Unlike other inspection companies, TesTex always has at least one Level II ET inspector on site during an inspection.
TesTex conducts its own in-house training programs specifically geared to tube inspection and certifies personnel as per ASNT SNT-TC-1A guidelines.
Data analysis is performed in real time, while on site, to provide instant results. THIS IS CRITICAL. When a questionable signal or a flaw indication occurs, the tube can be retested to ensure an accurate analysis. At the completion of tube testing, and while still on site, a PC-generated full color tube sheet map is printed as part of the preliminary field report. Other inspection companies list a preliminary report as an option for an additional price. If you do not select this option with other vendors, they will do the analysis back in their offices, and there is no chance for questionable signals to be rechecked.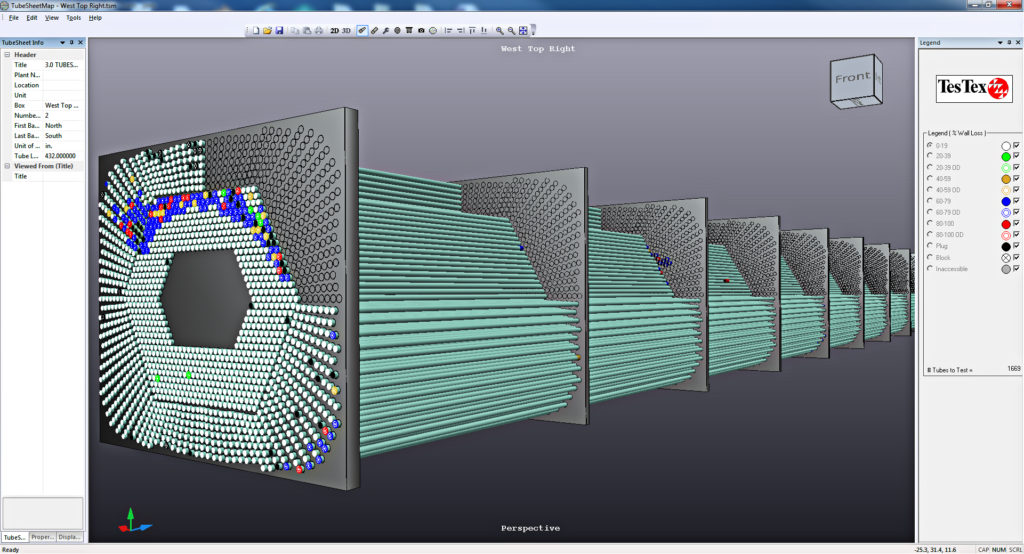 Example of a condenser 3-D tubesheet map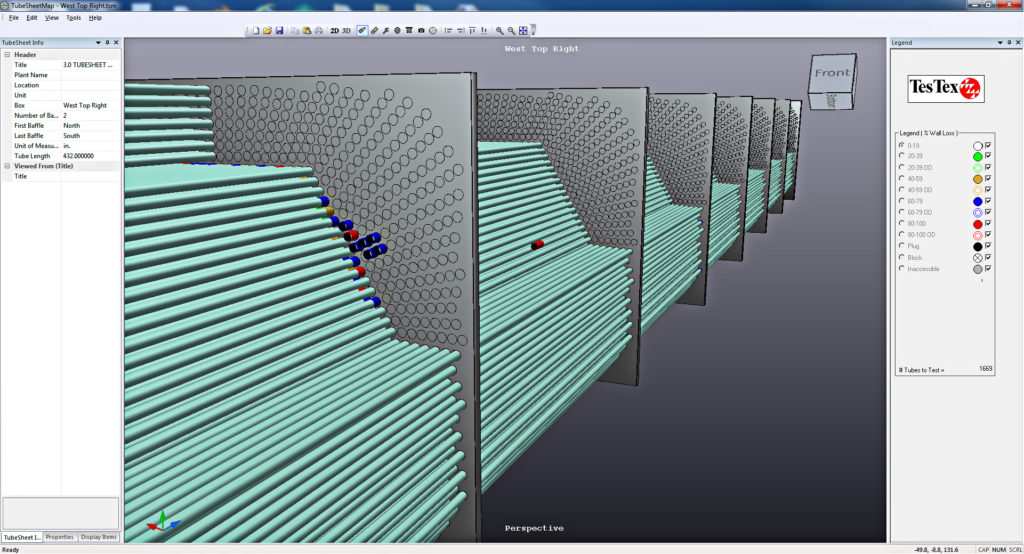 3-D tubesheet map showing defect location
TesTex and its clients feel that the optimum place to do the data analysis is on site during the inspection. It has also been conveyed to us from some of our clients (who did not select the preliminary report option from the other inspection companies) that they did not receive any test results or inspection reports until four to six weeks after the inspection was completed; some have even said that it took months to get any data at all.
PLEASE NOTE: TESTEX IS A COMPANY THAT SPECIALIZES IN TUBING INSPECTIONS; WE ARE NOT A COMPANY THAT SPECIALIZES IN TUBE CLEANING WHILE DOING A MINIMAL AMOUNT OF EDDY CURRENT TESTING. If you need turn-key cleaning and inspection services, TesTex has an array of dependable tube cleaning companies around the nation that we can sub-contract for you.
Why perform a full or partial condenser tube inspection?
As mentioned above, one of the greatest advantages of this service is the detailed, full-color tubesheet map that is provided on-site, immediately after completion of tube testing. This allows for immediate plugging for a quick return to service with increased reliability. This map also highlights problem areas that need immediate attention, including problems due to: ammonia grooving, steam erosion, steam impingement, inlet end erosion, concentrated areas of internal pitting, steam pit erosion in titanium tubing and under deposit crevice corrosion.
With our proprietary TesTex technology, 100% inspections can be performed on condensers with tens of thousands of tubes within a few days. For example, on a condenser with 10,000 tubes, we can complete a 100% inspection in (2) days with two stations running on day shifts. In fact, the system was designed for use on very large condensers and heat exchangers but can also be used to inspect smaller tube quantities in emergency situations when a prompt return to service is critical.
Our ultra-high-speed testing is a great value to the power generation companies because of reduced shutdown times as well as the realization of the cost of damage that a leaking condenser can cause to other plant equipment like corrosion cells, e.g., hydrogen damage in the boiler.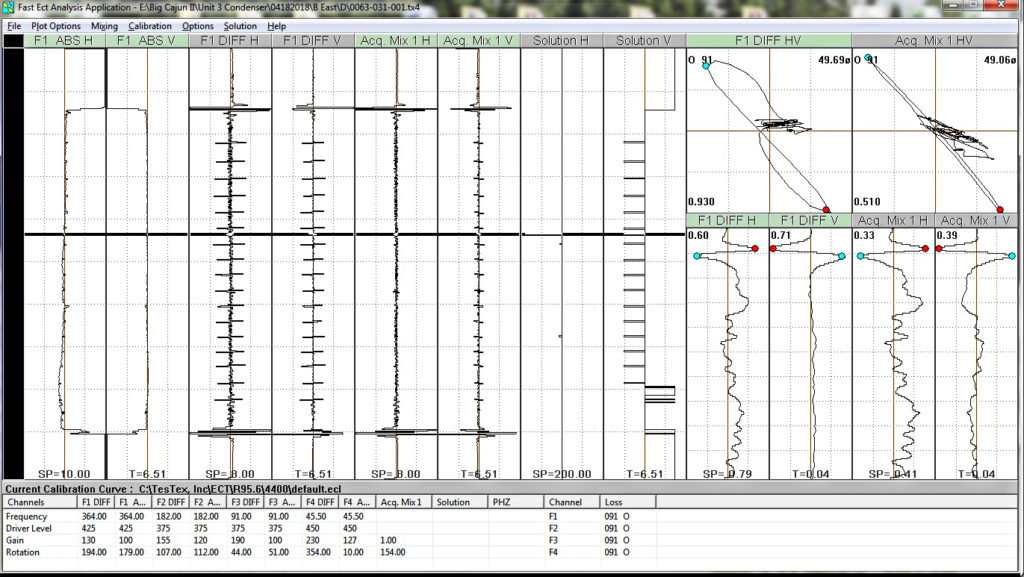 Waveform shows a 90% pit in a condenser tube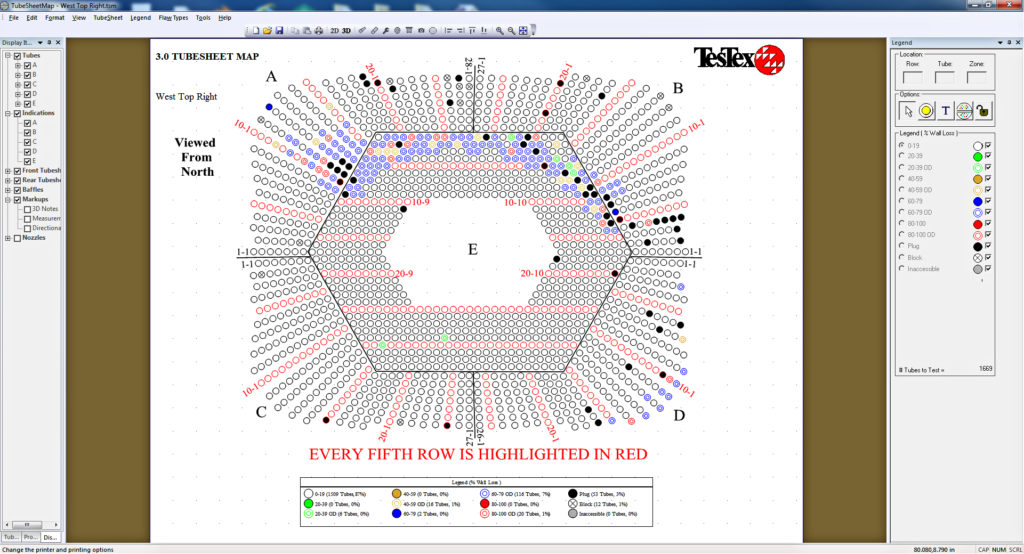 Tubesheet map showing tubes with defects
When percentage inspections are required, TesTex also provides manual Eddy Current testing using our TX-4400 Multifrequency Multichannel ECT System, IRIS ultrasonic inspections and video borescoping services.
TesTex can also provide a list of  tube cleaning, cut-out and plugging subcontractors when requested by a client.
Reasons to use TesTex for condenser inspections:
Find the trouble tubes before they find you. Our system will very quickly detect and quantify flaws in tubing made of brass, copper-nickel, stainless steel, copper, titanium, AL6XN, aluminum, etc.
Find tubes with holes/leaks that don't show up on hydro checks due to clogging and thermal expansion issues
Reduce or eliminate back pressure due to in-leakage and increase megawattage of the overall system
Know exactly what condition the condenser tubes are in so that you can forecast condenser tube remaining life, tube replacement, shield installations, etc
Justify a tube replacement by performing a full or random tube inspection
Eliminate the possibility of condenser tube leaks when electricity demand is high
Reduce/eliminate cost for additional water treatment chemicals, polishers, and make-up water
Reduce damage to other plant equipment (for example, Corrosion Cells and Hydrogen Damage in the Boiler) that can stem from leaking condenser tubes
Increase reliability
Clicking "Quote" will add the item to a temporary cart and prompt you to register/login. To view the items in this cart or send us an email requesting a quote, please complete the registration process or login.
| Description | Quantity | Add to |
| --- | --- | --- |
| Condenser Tube Inspection Services | | |
| TX-4400 Inspection System | | |
| Helix-XT IRIS System | | |
| Tube Sheet Mapping Software | | |