The Seeker

"Find what you are looking for"

Easy to use, stand alone video scope
Visually inspect hard to reach areas with limited access
Used with a laptop, tablet or smart phone
Has the ability to record video or take screen captures of areas of interest during a visual inspection
Works well for proving up other NDT techniques such as ECT, RFET, IRIS, etc.
Allows inspectors to put a visual image with a waveform
30 ft. probe length, encased in a rigid jacket to protect cable and camera from wear
Allows for easy insertion into tight spaces and navigates most bends

Additional Information

1/6 VGA CMOS camera
Image and video capture capability
6 LED adjustable lights with auto brightness
Scope total diameter of only 0.5 in (12.7 mm)
Waterproof up to 3.2 ft (1 m)
Wide angle view of 62 deg
Automatic exposure control
Operates in temperatures up to 140 ℉ (60 ℃)
Double shielded to prevent signal attenuation
Software for laptop included
Easily connects to laptop through USB or to tablets and smart phones with a USB adapter
Can run on most tablets and smart phones with a free App

Technical Specifications:

Up to 300000 pixels
30 fps frame rate
640 X 480 resolution
24 bits color
1.2 – 3.2 in (3- 8.1 cm) focal distance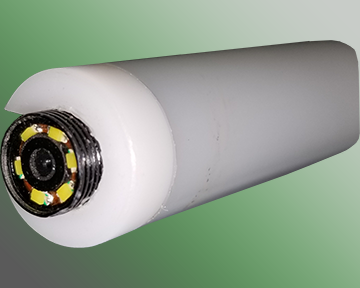 Clicking "Quote" will add the item to a temporary cart and prompt you to register/login. To view the items in this cart or send us an email requesting a quote, please complete the registration process or login.
| Description | Quantity | Add to |
| --- | --- | --- |
| The Seeker | | |