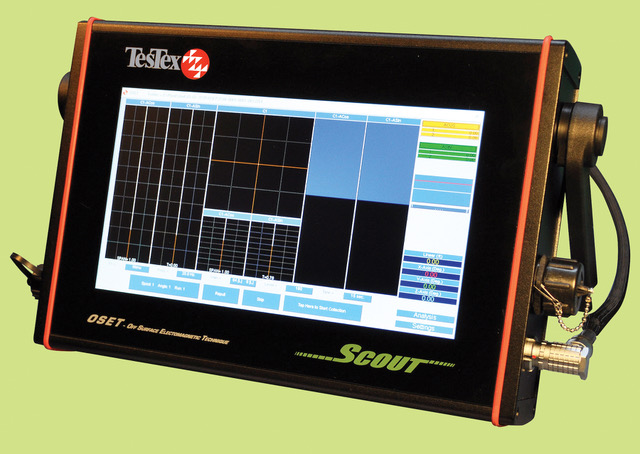 OSET Scout
Experience TesTex's cutting-edge solution for detecting Corrosion Under Insulation (CUI) with our proprietary Off Surface Electromagnetic Technique (OSET). Introducing the Scout system, designed to eliminate the inefficiencies of insulation stripping and random thickness checks. With Scout, you can precisely identify and address areas that demand attention, streamlining your inspection process and saving valuable time and resources. Trust TesTex for innovative solutions that redefine efficiency and accuracy in CUI detection.
Advantages and Features
One or two-man operation
Portable all-in-one electronics with 10.1″ (257 mm) sunlight-readable touch screen
AC or DC power
A True scanning technique with high throughput
Light-weight scanner design that fits most piping, vessels, and tanks starting at 2″ (50.8 mm) diameter piping and ranging up to flat surfaces
Scans through stainless steel and aluminum cladding with insulation thicknesses up to 3″ (76.2mm) and 4″ (102 mm) respectfully.
Type of insulation (calcium silicate, mineral wool, fiberglass, etc.) has no effect on signal response. The presence of moisture within the insulation also has no effect
Detects surface corrosion (wall loss, pitting) on piping of any wall thickness and large area I.D. corrosion on schedule 40 piping
Can locate butt welds
Encoded data with mapping option
Multiple wheel sets and quick release pins on the axles allows the versatility of using only one scanner for your inspection needs
Water Resistant
Circumferential scanning technique on cladding overlaps to eliminate "reduced sensitivity/dead zones"
Positioning device displaying circumferential position and reference angle to assure straight scans and angular position of the next scan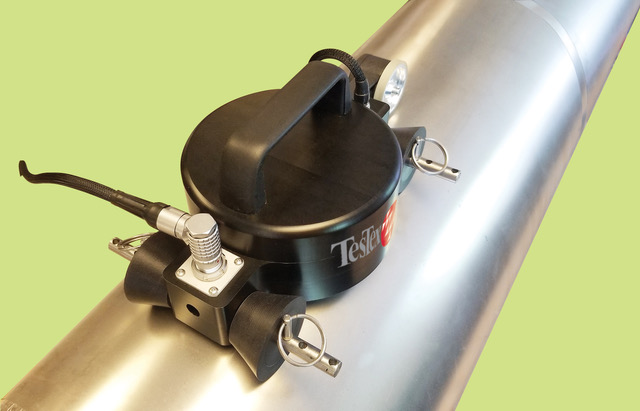 Detection Capabilities
Cladding Material
Insulation Thickness
 
Wall Loss Detection
Pit Detection
Weld Detection
Stainless Steel
up to 4″
up to 3″
up to 4″
Aluminum
up to 3″
up to 2″
up to 3″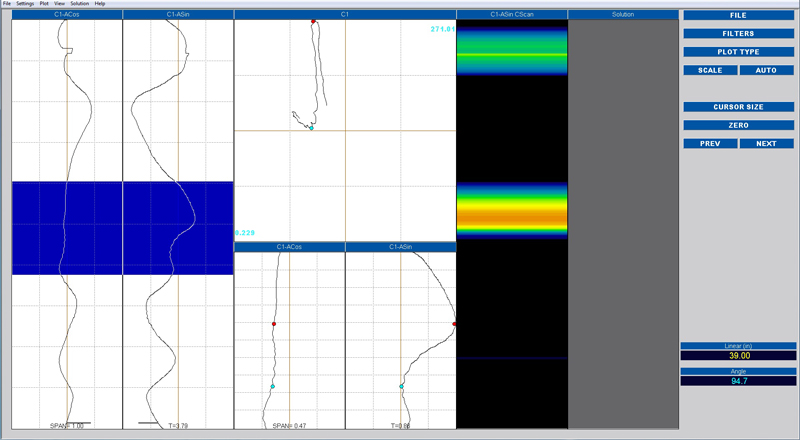 Options
Mapping Software
Extra batteries/chargers
75ft.(23m) extender cable
Specialty calibration pipes with specified defects (a standard pit calibration pipe and a welded calibration pipe is included with the system purchase)
Previous CUI Inspection Results
| Customer | Pipe Size | Comments/Results |
| --- | --- | --- |
| East Coast Chemical Plant | 4″ & 6″ | Inspected approximately 10 piping circuits. Detected wall loss on three (3) different pipes: UT prove up confirmed wall thickness of 0.216″ of nominal 0.240″ |
| Mid-Western Power Plant | 4″ – 16″ | Inspected approximately 25 piping circuits. Identified area with wall thinning, and confirmed 0.418″ remaining wall thickness of nominal 0.500″. |
| Ohio Valley Power Plant | 6″ | Inspected one piping circuit. Detected wall loss, of 0.417″ wall remaining of nominal 0.432″ |
| East Coast Chemical Plant | 2″ – 6″ | Inspected 4 piping circuits. Detected several area of wall loss on one line. Customer did not want to "prep" line for UT prove up for fear of causing a leak. |
Clicking "Quote" will add the item to a temporary cart and prompt you to register/login. To view the items in this cart or send us an email requesting a quote, please complete the registration process or login.
| Description | Quantity | Add to |
| --- | --- | --- |
| OSET Scout System | | |