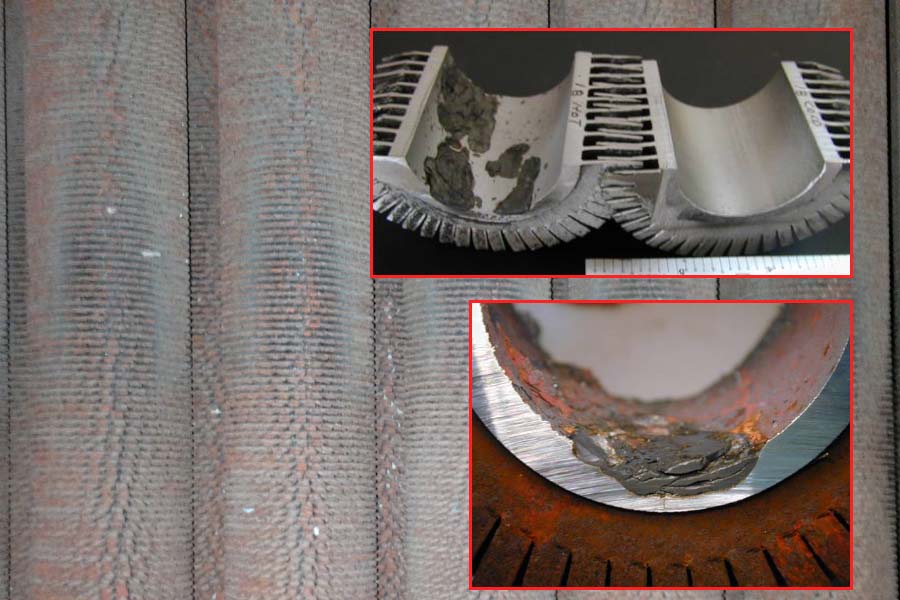 What are you doing to inspect your HRSG tubes?
How can you find tube issues before they lead to a catastrophic failure? How will this affect your plant efficiency? How much does it cost you now to maintain a reactive stance to your hidden plant problems? If it hasn't happened yet, are you prepared for when the inevitable tube failure does happen?

The insets on the image are due to chemical issues and caustic gouging, both are common in HRSG Finned tubes. From the outside you really can't tell how your tubes are doing. The fins look nice and uniform and the tubes look like they are in good shape. One look inside could tell a different story.
TesTex has developed a device that is able to detect pitting and general wall loss on finned tubes. Knowing the condition of your HRSG is the first step in proactive maintenance. HRSGs were initially intended as short term devices. It's obvious that keeping them around, and replacing failed parts is a far more economical solution than scrapping the unit as a whole and installing a new one. With the inspections we have done so far we have been able to determine problem areas so plants with HRSGs can devise an efficient method for tube replacement before a tube failure.

If you are not doing anything to inspect your HRSG now, this is the best place to start.
What we have found so far:
This image is a waveform of a 60% gradual wall loss in an HP evaporator finned tube.

This is not an anomaly, this is normal wear and tear occurring in Plants using HRSGs all across the US.

The unique problem with HRSGs is the tubes are so close together that you can only test the tubes that are accessible. A test like this would serve as a canary to determine if it is time to do a more invasive investigation to prevent failures.
TesTex has designed a tool that could follow up this inspection to give you up to a 100% internal tube inspection. You can read about our Internal Access Tool Here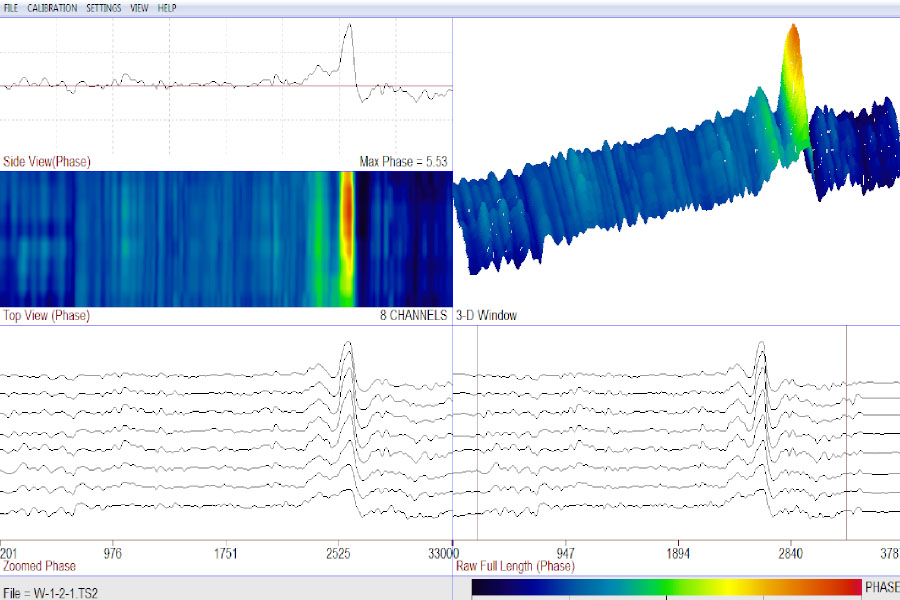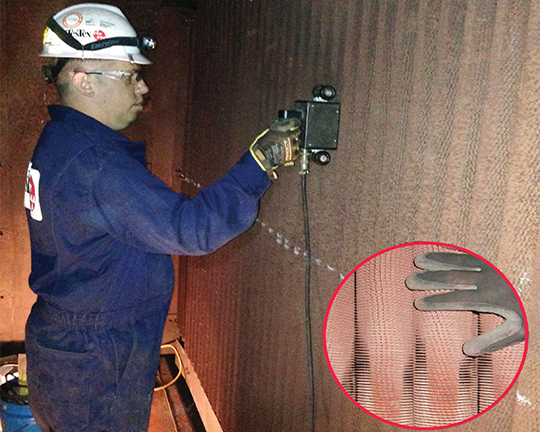 What we can do for you
HRSGs are problematic, and being proactive in preventing failures is a tough task, but TesTex has solutions. Give us a call or request a quote to get with someone who can talk to you about your HRSGs issues. We have a number of different tools, and inspections to help you maintain your HRSG for years to come.
The Low Frequency Electromagnetic Technique can detect and quantify wall thinning on HRSG finned tubes from the outside surface through the fins. The LFET scanner moves along the tube as it measures the strength of the return signal that is emitted into the tube by the scanner's exciter coil.
Can detect wall losses such as pitting, flow accelerated corrosion, and under deposit corrosion in the base tube
No surface preparation is needed to perform the LFET inspection
A two man team can examine up to 1500 linear feet (460m) in a shift
Previous Work sites:
| Customer | Inspection | HRSG / OEM |
| --- | --- | --- |
| Emera | #12 HRSG | Vogt |
| AMP | Evaporator | Nooter |
| NRG  | #1 HRSG #2 HRSG |   |
| Irving Oil | Economizer Tubes | Aalborg |
| Dynegy | Primary Reheater | Aalborg |
| Enel  |   |   |
| Western Farmers | 3 HRSGs |   |
| Dynegy  |   | Aalborg |
| 1st Energy  |   | Aalborg |
| Irving Oil | Economizer | Aalborg |
| Green Country Energy | Unit 3 Reheater |   |
| Aplus Velosi  | OTSG |   |
| Tasnee Saudi Arabia |   |   |
| Victory Energy/Siouxland Ethanol |   | Victory Energy |
| Cogentrix |   | Vogt |
| AEP | Economizer |   |
| Olin |   |   |
Clicking "Quote" will add the item to a temporary cart and prompt you to register/login. To view the items in this cart or send us an email requesting a quote, please complete the registration process or login.
| Description | Quantity | Add to |
| --- | --- | --- |
| LFET HRSG System | | |
| LFET HRSG Scanner | | |
| LFET HRSG Inspection of Finned Tubes | | |