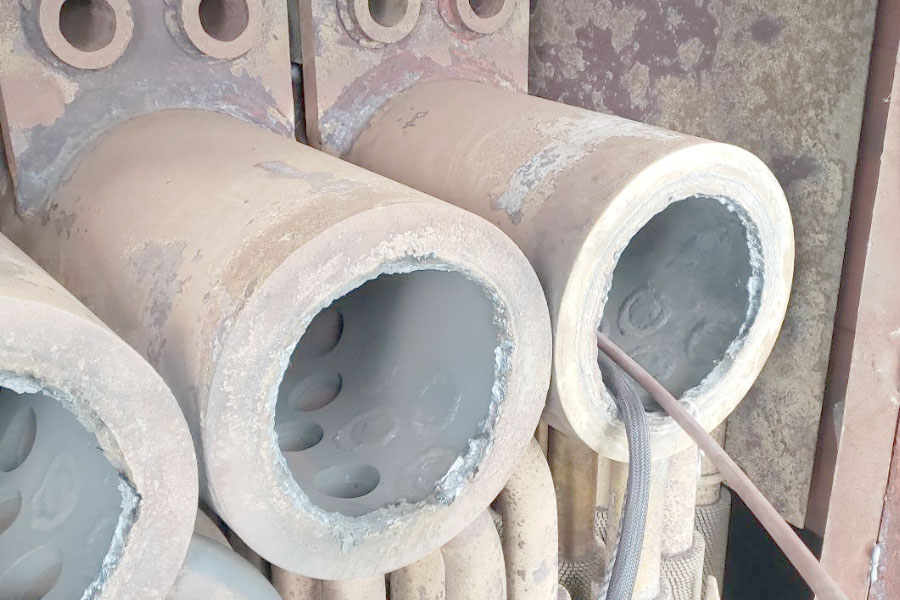 How many preventable tube failures would justify the cost of removing your HRSG header end cap?
Cutting the end caps can be expensive,

but not more expensive than continual replacement or repairs caused by not knowing how your tubes are functioning

. Doing an inspection on the tubes of a HRSG is difficult due to the modular design. These tubes are subjected to extremely harsh conditions that can result in Flow Accelerated Corrosion, Under Deposit Corrosion, Pitting, and Cracking. When a failure occurs, the unit has to be taken offline and the failed tube needs to be replaced. Any good plant manager knows that where there is one failed tube, there are probably more about to fail. On non-HRSG units this would be the time that an inspection would happen to check for other tubes that may be close to failure. Our Internal Access Tool is the only known way of performing a 100% inspection on your Finned Tubes. Your remaining options are to to maybe replace sections at a time in hopes of getting the tubes that are about to fail, or just the failed tubes.

This is a risky guessing game at best, is the risk worth the cost of removing your HRSG header end caps?

 
TesTex's IAT (Internal Access Tool) for inspecting HRSG Finned tubes
We have developed a crawler that is inserted inside a header after the plant removes the end cap. A small hole is cut into the casing to provide access to the header. Once the IAT is inserted in the header, it pushes a RFET probe equipped with a camera up or down the length of the tubes recording video and detecting changes in the tube's wall thickness.
The IAT is remotely controlled by a technician
The RFET probe is able to test through modest scale buildup
Composite data is encoded to provide the elevation of any flaws found
The IAT is able to test all the tubes in a header in 3-4 shifts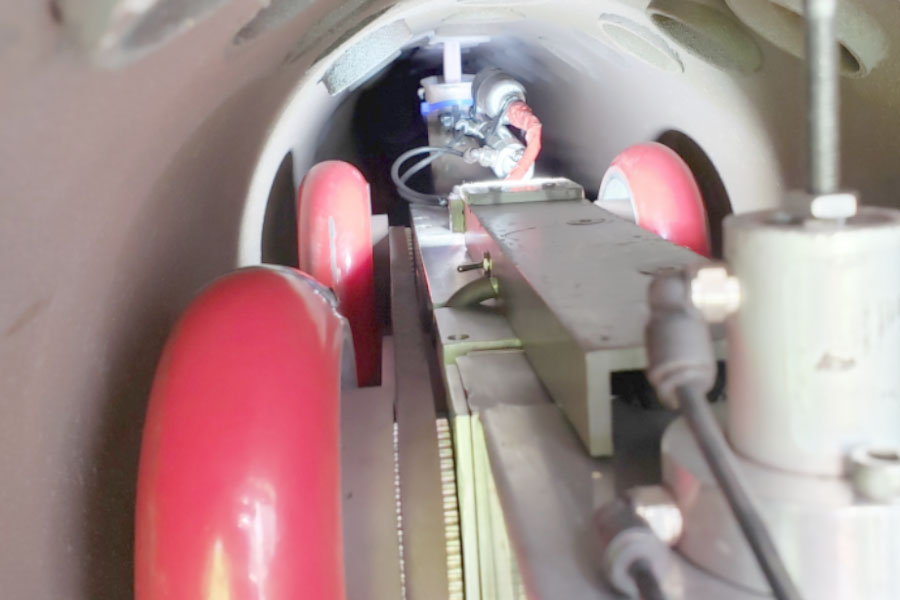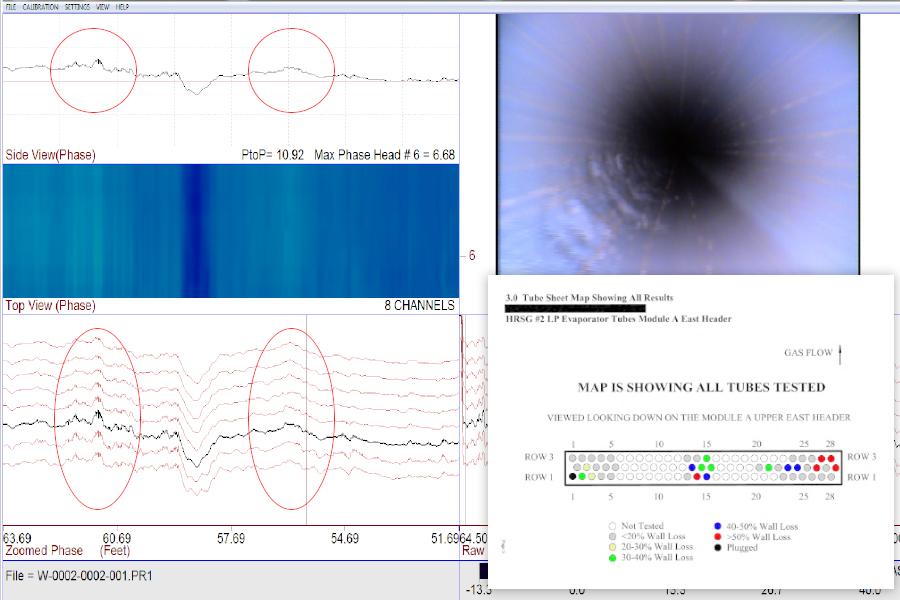 What we have found so far:
This image is an example of one of the flaws we discovered using the RFET/Video probe. The IAT allows you to visually see and size flaws inside your tubes. Additionally we can see the state of deposits in the tube and have discovered some deposits that have caused tube blockages due to the video collected by the hybrid RFET/Video probe. Inset in the image is an example of the map generated by a different inspection. It is critical to realize that this is a prevalent issue, doing preventative inspections during a turnaround or after a unplanned outage is highly recommended. These units are often neglected because there was no previous inspection method that could give 100% tube coverage. If you would like a copy of a report generated by our team showcasing what we have found using the IAT you can request it in our quote form below, there will be no cost to you.
Previous work sites:
| Customer | Inspection | OEM | Tube OD |
| --- | --- | --- | --- |
| AEP | HP Evaporator | Nooter | 2″ |
| Emera | Evaporator | Vogt | 1.5″ |
| AMP | LP Evaporators | Nooter | 2″ |
| ATCO | LP Evaporator | Nooter | 2″ |
| Xcel Energy | LP Evaporator | Vogt | 2″ |
| SWEPCO | LP Evap | Nooter | 2″ |
| Brandywine | HRSG B LP Evap | Nooter | 2″ |
| Alliant | LP Evap | Nooter | 2″ |
Clicking "Quote" will add the item to a temporary cart and prompt you to register/login. To view the items in this cart or send us an email requesting a quote, please complete the registration process or login.
| Description | Quantity | Add to |
| --- | --- | --- |
| IAT Inspection Report (free) | | |
| IAT Inspection of HRSG Service | | |
| IAT Inspection System | | |