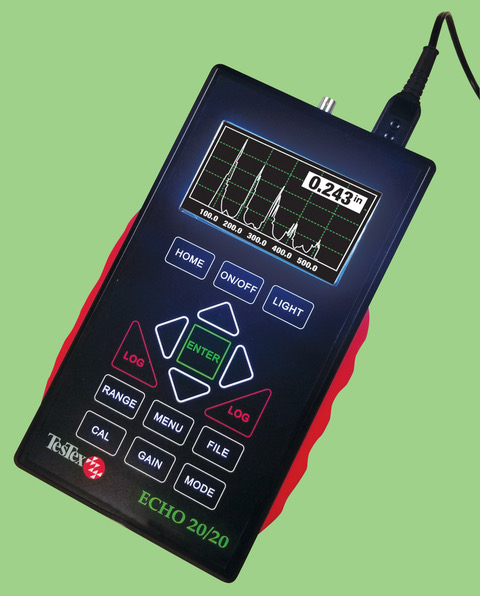 Echo 20/20 Ultrasonic Thickness Gauge

The Echo 20/20 is an innovative, yet easy to use instrument for ultrasonic thickness gauging. This handheld thickness gauge is fully compatible with a full line of single and dual element transducers. The Echo 20/20 is also compatible with the Viper Crawler for hard to reach thickness measurements. A sunlight readable color display allows for optimal viewing in some of the toughest outdoor conditions and a simple, ergonomic keypad can be used by either a left or right handed operator, while having easy access to all functions.
Features

Dual and single element transducer compatibility
Thickness range of 0.003″ (0.08 mm) to 6″ (152.4 mm). Dependent on material and transducer type
Echo to echo measurements on painted and coated surfaces
Standard resolution of 0.001″ (0.01 mm) for all transducers
Multi-layer software option for measurements of up to two layers
Thickness and velocity measurements
Time based B-scan mode
Sunlight readable, TFT color liquid crystal display
Simple keypad for right or left hand operation
Internal microSD memory card storage
USB communication port
Direct export of internal files in Excel compatible CSV (comma-separated values) format
Download and upload thickness surveys to and from the gauge
Supports a quadrature encoder
Clicking "Quote" will add the item to a temporary cart and prompt you to register/login. To view the items in this cart or send us an email requesting a quote, please complete the registration process or login.
| Description | Quantity | Add to |
| --- | --- | --- |
| Echo 20/20 Ultrasonic Thickness Gauge | | |